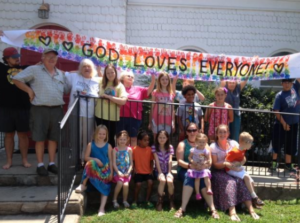 Danbury Community Church offers traditional style worship each Sunday morning at 10:00 in our chapel. We are unique because we are a union church, originally established as a combination of Methodist and Presbyterian denominations. While we are proud of this distinction, all people are welcome at our church.
We would deny God's grace to no one, and we extend that grace to all who enter our doors. And our primary mission outside of our church is to share the Good News and God's grace with all we encounter. We believe that we are meant to follow Jesus, make disciples, and transform the world, in Jesus' name.
Aside from seasonal services, we celebrate Holy Communion on the first Sunday of each month.
Our seasonal services include a wonderful Moravian-style Lovefeast at Christmas, as well as Christmas caroling in Danbury proper and at LifeBrite Hospital. We also have an Ash Wednesday healing service, Maundy Thursday, and Tenebrae services during the Easter season.