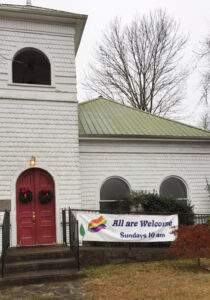 Built in 1894, Danbury Community Church's chapel stands as a sacred space welcoming all into God's presence. We are also a holy union between Presbyterian and United Methodist denominations.
We offer worship on Sundays in the chapel at 10:00, with a time of fellowship and Sunday school (all ages) following. Services are normally, at the brick church from Easter til November 30 and in chapel from December 1 til Easter. 
If you would like to speak with the pastor, please contact Rev. Eric Larsen at 336-978-7688 or revericlarsen@gmail.com
Please come as you are! We have no dress code, so please feel free to come as dressed up as you please, or in jeans if you'd prefer.
We welcome children of all ages in our Sunday services! Each Sunday we have a Children's Message to which all young folks are invited, and Sunday school is after worship.