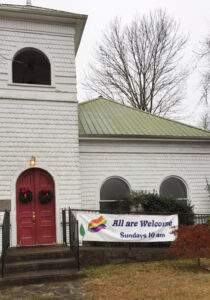 Danbury Community Church is a union church located in the small town of Danbury in Stokes County, NC.  Started by a small group interested in creating a new church that would combine the former Danbury Presbyterian Church (PCUSA) and the Taylor Memorial Methodist Church (UMC),  DCC operates under under a Plan of Union adopted by both denominations in 1984, upholding and celebrating the diversity and strength of both denominations. Pictured here is the Danbury Community Church Chapel, a sacred space welcoming all into God's presence. Built in 1884 as Danbury Presbyterian Church, and located at 300 N. Main Street in Danbury, the Chapel is now used for special services, events and other church functions.
Worship
is held
Sundays at 11am
at our Church building located at 617 N. Main Street in Danbury, the former Taylor Memorial Methodist Church. Parking is available on both sides of the building.  A fellowship hall is located below the sanctuary. As our sign proclaims,
"All are Welcome!"
at Danbury Community Church.
Please come as you are!
We have no dress code, so please feel free to come as dressed up as you please, or in jeans if you'd prefer. We welcome children of all ages in our Sunday services! Each Sunday children (of all ages) are invited to a special Children's Message during worship. Our minister is the Reverend Ashley Cyre, whom we share with Crews UMC in Walkertown, NC.